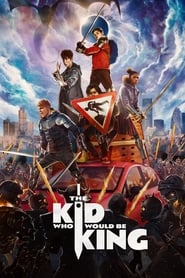 The Kid Who Would Be King
The Kid Who Would Be King
Joe Cornish, director of Attack the Block's urban adventure kill monsters, and a regular contributor to Edgar Wright, is responsible for The Kid Who Would Be King, a film that will be released in February next year in England and that recovers the myth of King Arthur.
The story of this production supported by 20th Century Fox will introduce us to Alex, a child who suffers everything a normal child must face, including bullying from other minors who study at his school, until he runs into the mythical "sword in the stone". From there, and wielding Excalibur, Alex must unite his friends and enemies to create his own band of knights to work together with Merlin (Patrick Stewart) to face the evil Morgana, who will be played by the increasingly in hike Rebecca Ferguson (Mission Impossible 5).
The following trailer, which is anticipated as an attractive proposal for the whole family, presents a film that will include digital creatures battling a battalion of children, while the English scenarios multiply in this proposal that will mix fantasy, action and adventure. And that is not something that we see so regularly in the current film offering.
Duration: 120 min
Release: 2019